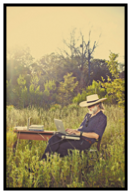 CHUCK TAYLOR's most recent books have been memoirs,
Saving Sebastian: A Father's Journey through His Son's Drug Abuse
and
The One True Cat: A Life with Cats
. Taylor has worked as a balloon clown, soft water salesman, janitor, laundry worker, survey taker, children's magician, animal lab assistant, nursery school teacher, bookseller, and publisher. Currently he operates the independent literary press, Slough, and teaches creative writing, Beat Literature, and American Nature Writing at Texas A&M. He has worked as a Poet-in-the-Schools and as a CETA Poet-in-Residence for Salt Lake City. Chuck has written two novels and three books of short stories. His book of poems,
What Do You Want, Blood?
won the Austin Book Award. He is married to Takako Saito Taylor and has three children.