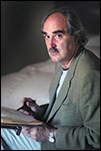 Born in Barcelona, Spain, in 1947,
V
ALENTÍ
G
ÓMEZ
-O
LIVER
studied at the Lycée Français, graduating in Philosophy and Humanities (
Universitat de Barcelona
). He also studied cinema and television in the
Centro Sperimentale di Cinematografia
(Experimental Center of Cinematography) with Roberto Rossellini.

Professor of Spanish Language and Literature from 1969 to 2003 at the University of Rome III and other Italian universities (Pescara and Catania). For years, Gómez-Oliver was secretary of the Associació Catalans in Rome, an association that has bridged the gaps between Catalonia, Spain, and Italy. And he is the appointed (OMRI) Cavaliere of the Italian Republic.

Gómez-Oliver has published poetry, novels, essays, articles, translations (into Spanish or Catalan), and literary criticisms. He is a collaborator of Spanish radio and TV, often speaking from Italy and about Italy. He usually writes in Catalan, and sometimes, also, in Spanish and Italian.
K
EITH
AND
A
MANDA
A
DAMS
(born in England and the United States, respectively) are professional calligraphers, living in rural Catalonia. Along with teaching calligraphy at university level at many institutions throughout Catalonia and Spain, Keith and Amanda have taught over 100 intensive monographic courses in France, England, Brittany, and Flanders. They have had over 20 exhibitions as a couple; Keith has had several one-man shows; and they have participated in dozens of collective exhibitions, including Caligrafía española. Keith has written three illuminated manuscript books in Catalan. Amanda has translated Pau Casals and Andreu Claret.