"
Scant
is the perfect tag—these poems are brief but intense, urgent. I love Schmeidel's staccato delivery—the way her poems just start, the way they never apologize. Her poems assume that the reader is a grown-up. The broken list (the format of poems like 'What They Say to the Child' and 'Excuse Me') is infectious in its drive. Schmeidel's vision often seems dark, but it is a quality of light '… beset by / the grip of matter.'"

—Dennis Schmitz, Author of
Animism
(Oberlin College Press)
"Too terrified in life to give voice to her own, often contradictory, insights and impulses, Schmeidel's telling metaphor for herself is the tarnished cork bottle ('Scant Hours / Moments of Weakness') carried on the tides from one continent to another, found, derided, cast back into the sea, its message never revealed. What does Friebert's uncorked bottle reveal?

"First, an exquisite sensibility rendered in affecting images of nature, of human faces and voices. Schmeidel is acutely aware of the encroaching darkness: the eventual demise of the planet, political tyranny, men's objectification of women, our murderous insensitivity to children. She looks for solace in certainty. But what is real? Does intimacy exist or is it an illusion? Is nothing happening or is everything happening? Does her inner clown know something important or is laughter a distraction as we die? Should she speak out or will she be deemed demented? ('Whatever's the matter with you,' says her mother.)

"Is transformative action even possible?

"Friebert has brought this extraordinary artist, thinker, and activist out of her own shadows and allowed her to stand up and be encountered."

—Lois Meredith, Psychotherapist and Playwright

"In this noisy, tweet-lashed, rumor-riddled world of ours, what a tonic reprieve it is to encounter the keen-eyed distillations of Elisabeth Schmeidel. Scant hours, dear fellow reader, both yours and mine, and far too precious to lose to the busy oblivions that fill our days. Schmeidel writes to the bone, and Stuart Friebert captures both her urgency and elegance with a mastery so consummate as to seem (oh masterful deception!) almost transparent."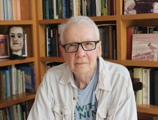 STUART FRIEBERT
taught German at Oberlin College, where he founded the Creative Writing Program with help from colleagues, and co-founded
Field Magazine
, the Field Translation Series, and Oberlin College Press. He has published 15 books of poems (including
Floating Heart
—the 2015 Ohioana Poetry Award winner and
Decanting, Selected and New Poems
), 14 volumes of translations, anthologies, and prose (recently
First and Last Words
).