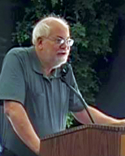 PAUL DICKEY
is a poet and philosophy instructor in Omaha and has published poetry, fiction, plays, poetry book reviews, and creative non-fiction in over one hundred literary journals. He gives poetry readings and prose poetry workshops throughout the Midwest in colleges and elsewhere.

Dickey's recent books include
They Say This is How Death Came Into the World
(poems)
, The Good News According to St. Dude
(a play), and
Liberal Limericks of 2012
(a collection of humorous political poems)
.
His work has appeared in
Pleiades, Bellevue Literary Review, Laurel Review, Prairie Schooner, Memoir (and), 32 Poems, Potomac Review, Hampden-Sydney Poetry Review, Pinyon Review,
and Clements and Dunham's
An Introduction to the Prose Poem
.